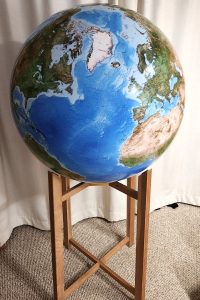 August 2023 Order Direct – Pricing for Roubal Mapping 30" globes
Order direct from joe@roubalmapping.com.
Our globes can have different skins, display stands and assembly options which affect the price.
Skins can be from our existing library or custom designed
Existing map skins (see list below) – $2,000
Custom skin – ask for estimate
Display stands include our existing designs or your own custom design
Table stand – included with standard price
Floor stand – add $200
Rotating stand – add $500
Custom stand – ask for estimate
Free delivery within Western Washington. Otherwise, globes can be shipped as fully assembled globes or as hemispheres that you can assemble.
Fully assembled globes require truck shipping. Costs vary with destination
Un-assembled hemispheres (the 2 pieces nest together so less space to box/ship) can be sent by UPS or FedEx, generally less expensive than trucking.
Hemispheres snap together easily without tools (assembly video available)
Standard globe map skins
Mother Earth – cloud-free satellite imagery, various ocean treatments (classic, antique, solid color)
Geological Globe of the World – from the Geological Map of the World, Version 3
Earth Topography
Mars
Mars topography (MOLA)
Venus topography
Jupiter and Galilean Moons
Night Sky Celestial